(photos courtesy of SSN686).
After seeing all the posts about the moinkballs, I had to try some. We had a potluck dinner we went to last evening so I decided something different made sense. According to some, these aren't "real" moinkballs since we didn't use Costco pre-made meatballs. EggHatter rolled these with just ground beef (80/20 mixture). She then rolled about half of them in Dizzy Pig Red Eye Express and the other have in DP Cowlick (she did this a couple of days ago). Then yesterday afternoon I added the bacon strip and toothpick.
Smoke them with Jack Daniels Oak Barrel Chips.
Here they are ready to go on the Egg (total of 43 from 3# of meat)...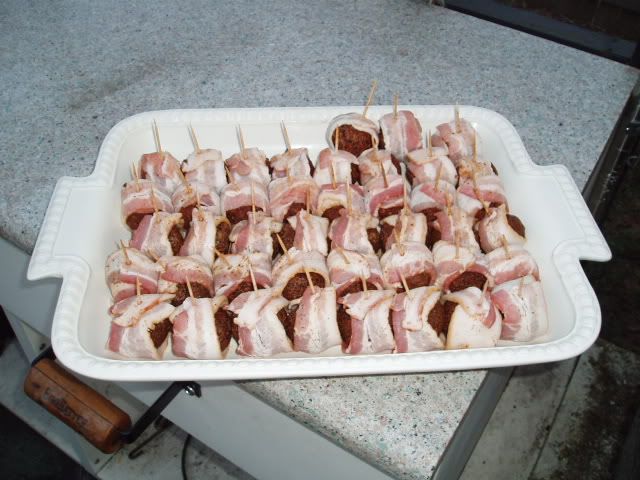 and then on the Egg - direct, on raised grid at a temp of about 325...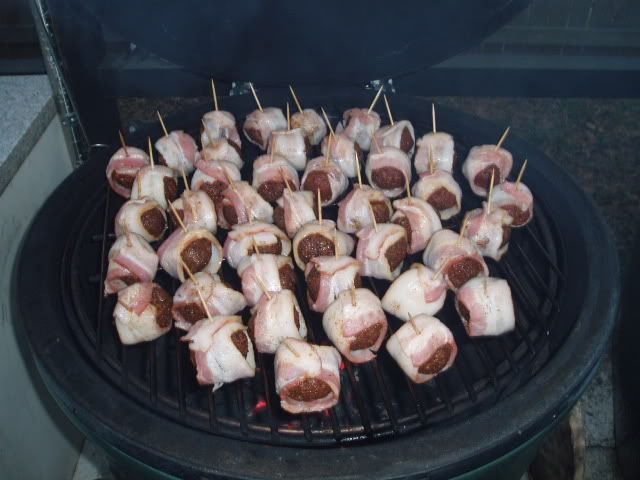 Use Jack Daniel's Original BBQ Sauce, thinned with water as a saouce.
Here we have them just after covering with sauce (the "pre-sauce" cooking time was about 35 minutes)...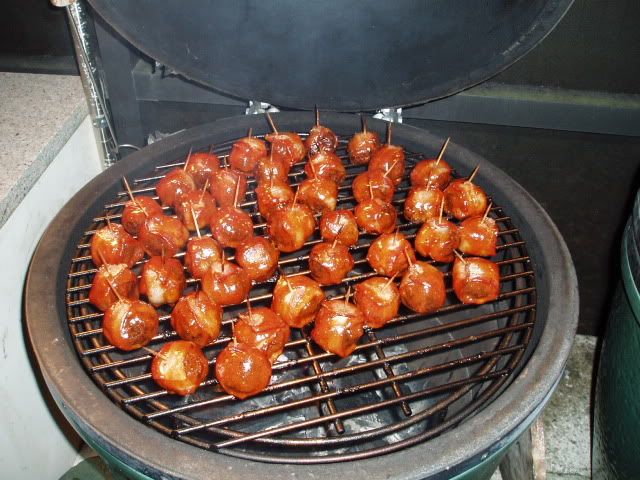 After about 10 more minutes, off they came, into a bowl and headed to the dinner...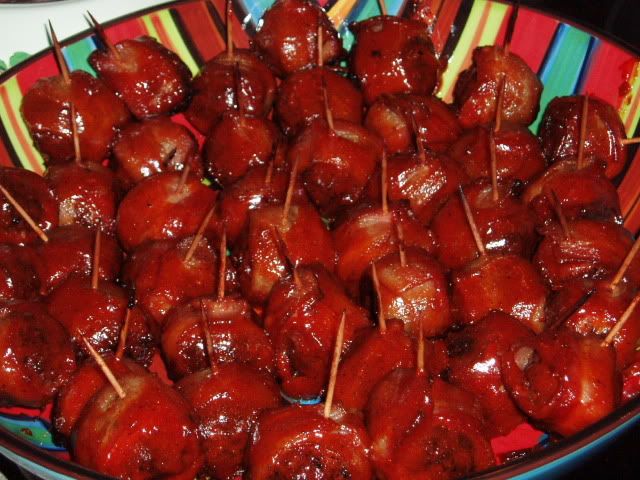 Jack Daniel's Original BBQ Sauce, thinned with water, can be used one the side as a dipping sauce for the finished MOINK BALLS.
They were very good, something to do again sometime. There was about 22 people at the dinner and our bowl was the only one empty at the end of the dinner.
OFFICIAL MOINK Ball Rules:
IMPORTANT RULE CHANGE:
After careful consideration by the Governing Board of IMBAS the following rule change as been adopted, effective immediately.
MOINK Balls will be made with ALL BEEF meatballs, wrapped in PORK bacon. Seasonings, sauces and glazes are encouraged but not mandatory. In the past MOINK Balls were only made with pre-made, store bought meatballs. Due to the international appeal of MOINK Balls and the lack of availability, in some localities, of store bought pre-made meatballs, HOMEMADE meatballs will now be acceptable provided the meatballs are made with no other meat other than BEEF. The standard binding agents are approved. Keep in mind the beauty of MOINK Balls is simplicity. Don't get too fancy on the binders/fillers. (This rule change will forever be known as the NOSKOS Rule)
MOINK Balls must be cooked out of doors using a wood or charcoal fire. Balls cooked indoors or using a fuel source other than wood or charcoal can not be considered for certification. It is important to note that pellets that are made of wood are acceptable as a fuel source for MOINK Balls.
The use of the term MOINK Balls requires the proper capitalization. Failure to capitalize MOINK Ball will result in your application being denied.